CAVES OF THE AREA
---
NEW
GOOGLE EARTH DISPLAY OF THE CAVE ENTRANCES
All Photo's by Dave Dobson.
The plan below shows several cave systems in their true spatial relationship and to their true scale. One of the cave systems however is false. One of the cave systems on this plan is Ogof Ffynnon Ddu plotted at the same scale as the other systems but obviously not in its correct location. Can you spot OFD?
Ason Valley Waterfall Bustablado-Arredondo area Local washing area near campsite
The main objective of the trip was to complete ten traverses or through trips in the area. With the exception of Systema Gandara all of the traverses are well documented and recorded in publications and journals. Systema Gandara however is something of a new traverse that SWCC members have now completed. Gandara was discovered in 2005. It currently runs to about 120km of passage. The regular Easter crew have been linking and learning the passages since 2007. With the exception of the passages within an hour from the entrance the cave remains pristine and in many places still crystal floored. You may think you have seen well decorated cave passage but Gandara will take anyone's breath away both in terms of shear size and majesty but also in terms of pure class. It is easily every bit as impressive as the Berger and indeed having returned to the Berger recently I was struck by how modest my impression of the cave was when compared with the Gandara system. Gandara offers a challenge to every level of caving ability. With a ten minute walk in, if you can cave you can explore this new and exciting system. Easy walking passage is predominant throughout the system broken by the occasional pitch , traverse or short crawl. This cave really is a must for any self-respecting caver and the traverse (which we have now found our way through) offers a world class valley to valley style 12 – 14 hour through trip equal to any other in the world. I kid you not.
---
Cueva Sopladoras to Cueva del Agua through trip.
A super little caving trip, no SRT required. A short up handline at the entrance (2m) A series of galleries and a short crawl lead to a climb down into a sporting clean washed stream way with fine deep pots and scoops. A fossil high level passage connects through to a separate streamway which grows ever more impressive until it breaks into the large exit gallery with daylight visible some 200m off in the distance. Duration about 3 hours. 150 minute walk in with a 45 minute walk come scramble come free fall back down to the valley floor. (reported by the Dobsons this Easter as connected to proper path now)
---
Sima de Tonio to Cueva de Canuela through trip.
The classic Cantabria traverse. Tonio drops 400m pitch after pitch directly over the Sala Olivier Guillaume, Europes second largest chamber behind the Verna by a small number of cubic metres. I've seen them both and Olivier Guillaume is more impressive by my estimation. Through trip time of about 4 – 5 hours depending on party size (faster when rigged). Walk in of about 15 minutes, walk out of about 15 minutes.
---
Coteron – Renada
One of Matienzo's finest. A fine through trip with 200m vertical range. Duration of about six hours or nine hours depending on route. 15 minute walk in and a 5 minute walk out.
---
Sima de Cueto to Coventosa through trip.
One of the worlds most famous traverses, 700m vertical range with the infamous 300m Juhue entrance shaft. Stupendous cave. Incredible through trip with a very much reduced walk in to the top entrance (about 1 hour, used to be 2.5 hours) Ten minute walk out. Through trip duration of 12 – 14 hours.
---
Torca Tibia to Cueva Fresca through trip.
Another classic Cantabria traverse dropping from high up on the spectacular side of the Ason Valley to emerge some 400m lower down near the valley floor. The traverse through this 25km system includes the famous Vira de la Arana (spider traverse) a yawning chasm across the floor of the passage crossed by an airy rope traverse across the passage roof. Totally awesome stuff. 120 minute walk in and a thirty minute walk out.
---
Through trip.
As described above, new cave in pristine condition. About 100m vertical range. Through trip has been completed. More info to follow. Trip length about 10 – 12 hours duration. Walk in about ten minutes, walk out about forty minutes to nearest road or 120 minutes return to entrance.
---
Sima de la Cuivo - Mortero
Another fine trip of 270m vertical difference with a through trip duration in the order of 5 hours. Lots of mud and water on this one! Walk in time 30 mins, walk out about 10 mins.
---
through trip.
Another world renown caving through trip. 500m vertical range with a traverse through a 50km system so varied and constantly changing in nature from 2 hours of Yorkshire style SRT to 2 hours of Mendip style river passage to 2 hours of Gournier style pools and marmites to two hours of fine OFD style canyons and galleries to 2 hours of fine clean washed river passage. A classic trip for every kind of taste. Thirty minute walk in and two minute walk out. Through trip duration of about 12 – 14 hours.
---
Cueva de la Rubicera to Mortero de Astrana through trip.
An excellent and challenging trip. Mortero is a fine daylight shaft which makes Alum Pot look insignificant! The traverse to Rubicera takes between 5 and 6 hours with opportunities to observe the pitch head to the lower Mortero system (180m) as the river thunders down in an impressive style. The traverse avoids the 180m pitch to connect ingeniously over the head of the 90m pitch. An airy roof rift (a little like flyover in Rowten) brings you to the Rubicera stream way without the need to drop the 90m pitch. All pretty exciting stuff, ask my fifteen year old son Joshua. Walk in about 10 minutes, walk out about 60 minutes from the most impressive cliff face entrance you will find in Europe.
---
Vallina Top to Bottom through trip.
Just ask Stevie West about this one! A challenging duck which requires bailing leads to a series of fine galleries and pitches which eventually connect down to the lower series of the system affording an exit from the lower entrance. A simple introduction to European through trips. Duration about 2 – 3 hours. Walk in about 1 minute, walk out about 15 minutes.
Apart from the through trip, a trip from the bottom entrance to the far reaches of Vallina is one of the best trips in Cantabria. It takes you through old and dry high level passages, down to a small streamway, via a 30m pitch, through a choke to a large streamway then up to high level crystal stream passage and unusual formations via large avens that you can not see the top of. Brian.
---
Cueva de Castelagua, Torca Fria & Cueva Fria to Lobo through trip.
---
CAVES MARKED ON THE LOCAL MAPS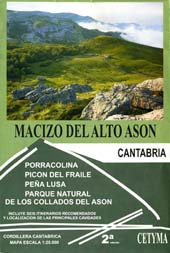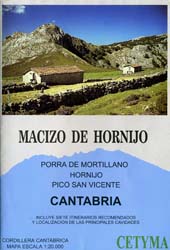 Updated 15.05.21