La Barguilla Camp Site Photo's
The expedition was based at Camping La Barguilla which can be found at the following web address….
http://www.campinglabarguilla.com
The campsite is located about three minutes drive from Ramales or a leisurely fifteen minute stroll. It has a small number of bungalows for hire. These are converted stables with a very plush level of fitment, polished stone floors and the like. There are also a number of mobile homes for hire. These are the pretty standard two bedroom, kitchen diner, shower room and toilet type homes that you find on most European campsites.
The campsite sports a large bar and restaurant for those wishing to grab an easy meal or drink without a drive. There is also a small public park a couple of minutes walk away alongside the Ason River. The park also has a bar which serves snacks and light meals and the river is ideal for cooling your feet on those hot steamy Spanish afternoons.
Camping costs 5e per person, 5e per tent, 5e per car with a 3.50e supplement for electricity. So for example two people sharing one tent and one car with electricity would cost 23.5e per night or about 12e each. The bungalows sleep 4 and cost 79e plus tax per day. Seven day week would cost 553e. plus tax. i.e about 150e per person. The Mobile homes sleep 4 and cost 66e plus tax per day. Seven day week would cost 462e. plus tax. i.e. about 130e per person.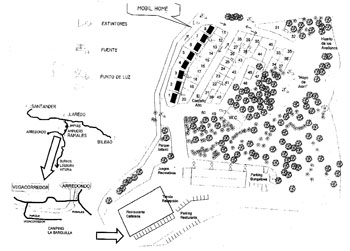 Updated 15.05.21