CAMP SITE
Camping………………
The camping site is called Camping Ibarra, it is the same campsite as the one we stayed on in 1995.
The website can be found by following the link opposite.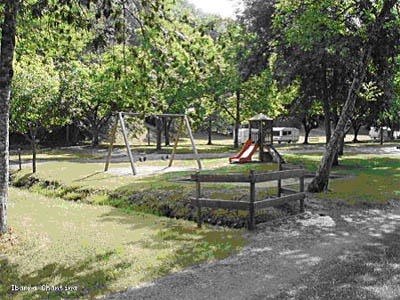 The tariffs (from 2014!) along with general info on the site can be found by following the link supplied above. The costs from 2014 are very reasonable, 3.50 euros per emplacement per day, 1.60 euros per vehicle, 3.70 euros per adult per day. Electricity is an extra 2.0 euros per day.
The facilities are very basic or certainly they were in 1995. There is no swimming pool. The pitches were un-constrained by hedges and the like and generally we just took over a large area of the site in a very friendly community style of camping which basically centered around the control tent. A control tent will I think be essential for the 2017 expedition and we will be providing gas rings and cooking trestles for those using smaller tents to sleep in. If you are in a small two man tent there will be a large community tent where you can cook and prepare food.
The cost of the control tent pitch will be divided amongst all of the participants.
The booking is confirmed and the campsite owner seems reasonably laid back about numbers.
At some point in time around Easter 2017 I will need to communicate your pitch requirements to the campsite proprietor but there is no burning rush at the moment.

Updated 24.11.16